Stallions
SHOWMAN HAS NOW BEEN GELDED AND HAS FOUND A NEW PONY CLUB HOME 2012
BURLEY SHOWMAN New Forest Show 43/078 2001
By Peveril Peter Piper exx Mallins Princess 11.3½hh
| | |
| --- | --- |
| | Photo courtesy of Horsepower Photography |
Showman by the well known sire Peveril Peter Piper is now 7 years old and has been out under saddle this year doing HOYS M&M Working Hunter Pony Qualifier Classes. He has really taken to jumping, clearing 2 ft 9ins (84cms) with ease, enjoying the challenge. His stock which seem to inherit his easy temperament have had considerable success in the show ring. At the end of the season he will be tested for possible AI use next year as well as continuing to take mares for natural service.
Latest news.
Showman has qualified for HOYS at the New Forest Show so will contest the final in October!
Before winning his section of the HOYS WHP at Brockenhurst he was Working Hunter Pony Champion at Wimborne Show and then on the 9th August at Ellingham he was Champion ridden, not bad for a 121.5cms pony!
Showman also competed in his first One Day Event at Tenantry Farm against horses which he won finishing on his dressage score. He then took second place at Bucks County in the HOYS WHP Qualifier.
Showman behaved like an angel at Hoys but unfortunately had a fence down. He finished in 10 th place but certainly was a good ambassador for the breed. It was his first big final and we were very happy with the way he tackled the fairly testing course, and with his overall attitude and performance.
---
BURLEY BRANSTON
Perormance tested Stallion by Randalls Fire ex Weirs Aveline
owner Mr J Adams standing at the Hollybrooke Stud www.hollybookestud.co.uk
---
BURLEY HALLMARK
By Burley Gold Blend ex Gosden Teazel, photo at 2 years old

owners Mr & Mrs A Humble, standing at the Lovelyhill stud www.freewebs.com/lovelyhillstud/index.htm
---
BURLEY GOLD BLEND
By Willoway Pipers Gold ex Weirs Aveline
| | | |
| --- | --- | --- |
| Ridden Sucess | In Hand | Working Hunter Pony |
Gold Blend is another versatile pony and now standing in France and belongs to Mrs Nikki Dibden Contact: dibden.nicola@neuf.fr
---
BURLEY DUNEDIN
By Luckington Sportaide ex Burley Dunlin owned by Robert Maton Mallardswood stud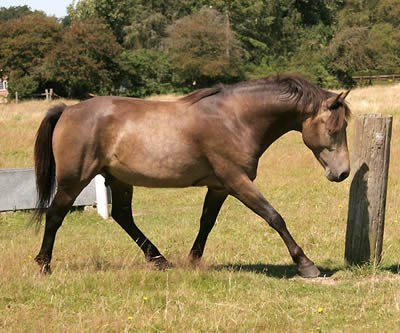 Sire of the notable prize winners Mallardswood Delphi and Bisterne Diva
Page is under construction while I look for more pictures.